I love to read, but these days I hardly able, working full-time, taking care of a family and going back to school. If it's not a homework assignment, it's difficult finding time to read. There hasn't been a moment to grab one of my favorite hard covers and curl up in my private little nook make only for me, by me. But I saw Vivica do an interview a while back and she was talking about her book and I said, I really would like to read it. But again, time wouldn't permit, so I said "I know, I'll purchase the audible and listen to it when I'm unable to read, but am able to listen. I'm so glad I did!
I was pleasantly surprised that the book was narrated by the author and told by Ms. Fox. I think it's really important when you're listening to a book, especially a story about the author – it's more inspired when told in their voice. I sat back every moment I got and listened in. I felt like I was sitting across for her as she told me her hits, some misses and most treasured memories. She shared so many life lessons and gave wonderful advice.
It's a beautiful thing when a book moves you to want to do more, say more and be more. I felt that while  listening to "Every Day I'm Hustling." It was encouraging, inspiring and therefore prompted this Book Nook for Women of Vision Alliance. I had to share what I'd learn and that meant this new book. So, there will be more books to come – but a very big thank you to Ms. Fox for sharing her world with us. It's a must read or listen!
~ Bernadette M. Holder
Women of Vision Alliance (WOVA), Founder/CEO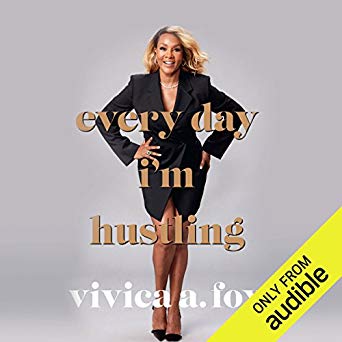 About Every Day I'm Hustling:
Vivica A. Fox is a dynamo who has created a lasting career on her own, through sheer, roll-up-your-sleeves DIY hustle. Every Day I'm Hustling is a personal book with a message Fox passionately believes in: that you make your own luck, that you never ever wake up in the morning thinking somebody's going to call you and offer you that part or ask you out on that date that's going to change your life, that you have to wake up and put on your longest eyelashes and fiercest heels and go out and make your life happen yourself.
The actress provides start-today strategies for success in business and "been there" lessons in love, buttressed with stories from her early family life all the way through to today. Always honest and always funny, Fox also tells behind-the-scenes tales from some of her biggest movies – such as Uma Thurman's life-changing advice during Kill Bill and Will Smith's downtime pep talk on Independence Day. And she maps out exactly what it took to come back with a role on the smash hit Empire and her own frisky show on Lifetime, Vivica's Black Magic. She also shares her "how is she 53?" secrets to looking your best no matter the age on your driver's license.
Cover design by Michael Storrings.
SOURCE: Audible Inc.